| Home page | Index | St Nicholas | Society | Mission |
| Articles | OCNet | Links | Parish | OCNet |
---
The Orthodox Church of St Nicholas of Japan
156 Fulham Road
Brixton
Johannesburg, Gauteng
South Africa

---
We are a parish of the Orthodox Church, under the Greek Orthodox Patriarchate of Alexandria, which traces its history back to AD 65, when St Mark the Evangelist brought the gospel of Jesus Christ to Africa, and planted the Church in Alexandria, Egypt.
You have just found our cyberspace entrance, but we hope that if you are in Gauteng you will find our other entrances as well.
Our services are mostly in English, though we occasionally use Greek, Slavonic, Romanian, Afrikaans and other languages as well. Those who attend the services are South Africans of various ethnic backgrounds (Afrikaans, English, Sotho, Zulu etc), and also of Greek, Russian, Bulgarian, Romanian, Serbian, Syrian, Lebanese and Ethiopian origin. All are welcome!
You can also find more information on our new parish web page
| Welcome | Services | Where we are | More Information | Other Links |
---
Services
Orthros (Matins)
8:30 am on Sundays
Divine Liturgy
9:30 am on Sundays
On other festivals the times of services will be announced. Please contact the parish priest for more details.
Vespers
6:30 pm on Saturdays
On the eves of great feasts the Vigil (Vespers, Litiya, Orthros) is served.
| Welcome | Services | Where we are | More Information | Other Links |
---
Where are we?
Physical address
The church is at 156 Fulham Road, Brixton, Johannesburg, about a block and a half west of the Brixton broadcasting tower, on the hill above the SABC offices in Auckland Park.
Postal Address
The Parish postal address is:

Church of St Nicholas of Japan
PO Box 1148
Melville
2109 South Africa

Parish Priest
Our parish priest is Fr Athanasius Akunda
Fr Athanasius Akunda

Tel: 072-834-1524 (cell)

Chairman of the Board of Directors
Mr Luigi d'Amico
Tel 082-412-8490 (cell)

| Welcome | Services | Where we are | More Information | Other Links |
More about us
In 1987 a group of Orthodox Christians in South Africa formed the Society of St Nicholas of Japan to promote mission and evangelism among Orthodox Christians, and to make Orthodox Christianity better known to non-Orthodox people. The society invited Fr Chrysostom Frank, a priest who had served in South Africa before, to return as its chaplain, and formed a small worshipping community that used English in the Divine Liturgy. A couple of years later the community was strong enough to become a parish, independent of the society, and, after three years of worshipping in borrowed halls and chapels, bought an old Protestant church building in Brixton, Johannesburg, and converted it for Orthodox use.
The ikons on the ikonostasis were painted by a parishioner, Cathy MacDonald, who also painted many of the ikons on the church walls. Other parishioners have also painted some of the ikons. The music in the services is mainly Slavonic, though with some hymns sung to Byzantine and other melodies.
---
St Nicholas Parish Patronal Festival 1999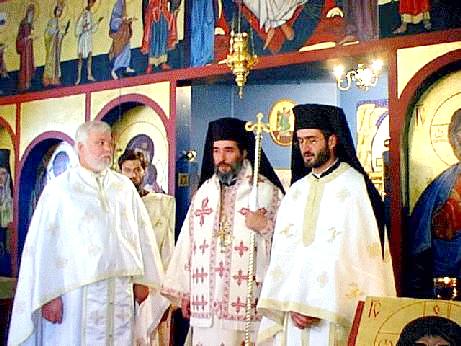 Fr Bert Olechnowicz, Metropolitan Ioannis of Johannesburg and Pretoria, and Fr Petros at the patronal feast of the parish of St Nicholas of Japan, February 1999
---
Events, news and announcements
Use the Corkboard for events, news, announcements and comments.
---
| Welcome | Services | Where we are | More Information | Other Links |
---
You are visitor number 3691 to this page since 2 July 2004

Use the corkboard for comments, and also for events, news and announcements relating to Orthodox mission (off-topic announcements will be deleted)

There are two web forums for Orthodox Christians in Southern Africa:

Join one (or both, if you live in Gauteng) to make contact with Orthodox Christians in southern Africa. Share news, coming events, questions, problems etc.
| Home page | Index | St Nicholas | Society | Mission | Links |
| Parish | Articles on Orthodoxy |
---
Maintained by
Steve Hayes
PO Box 7648
Pretoria
0001 South Africa

Created: 1998-07-29
Updated: 2013-08-02